In the healthcare world, having a great education coupled with a rewarding position and tons of valuable work experience can be enough to round-out your career. But for some, taking their careers to new heights by way of various certifications is the next natural step in their professional journey. If you are in the field of laboratory science or pathology, chances are you have thought about obtaining a certification from either the ASCP or AMT organizations at one point or another. Both are highly respected by the community, offer fantastic benefits to their certificate-holders and are great options for adding some credentials to your resume. Do you know the differences and similarities between the two? 
We have outlined the basics of the two certifications, their benefits, how to obtain them and which one to choose if you find yourself at a crossroads. 
What is the AMT Certification?
The American Medical Technologists (AMT) is a globally recognized agency that is responsible for certifying several different allied health professional disciplines, among them medical laboratory technicians, phlebotomy techs, dental assistants and more.
Obtaining the AMT certification is a great way for an entry-level professional to boost their credentials when applying for healthcare jobs, and for experienced professionals who want to get reacquainted with the field. Aside from ensuring the competence of the professionals who take the exam, benefits include continuing education credits, leadership opportunities, online career services, scholarships, and awards. In some cases, having this credential can even lead to higher wages and better career opportunities.
What is the ASCP Certification?
The American Society for Clinical Pathology (ASCP) is a professional healthcare organization and membership program for laboratory technicians and pathologists in the United States. The association offers certifications to its members, which is globally recognized as a 'gold standard' license. Despite the high praise, it is not mandatory to have this certification in order to practice in the US.
The various ASCP Certifications – the organization offers over 20! – can be obtained by taking an exam, and there are lots of resources available online to help you prepare. The certifications come with many benefits, including access to a community of peers, admission to conferences and events, and access to countless online resources and educational tools. All of these can greatly heighten the experience of working in the field!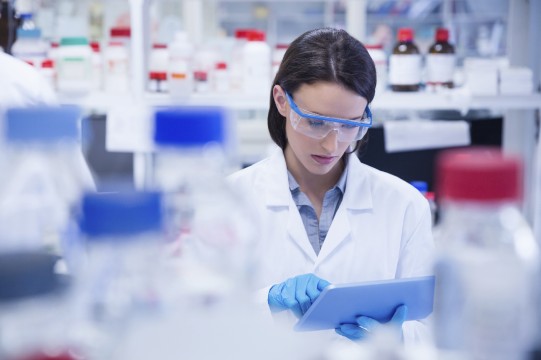 Which One Should I Choose?
At face value, the two seem to share many similarities, and that's because they do! Both organizations are globally recognized in the healthcare landscape, and both certifications will help to advance the career of the healthcare professional who obtains them. They each require writing an exam, paying a fee and regular renewal every three years, and both provide access to resources, newsletters and a community among peers. 
While they are similar in nature, there are differences which set them apart, and some consideration should be taken to determine which is the right fit for you. Each one of these organizations are associated with the laboratory science industry, but depending on your specialty, one may be more suited for your specific career advancement than the other. For example, the AMT certifies dental assistants where the ASCP does not; the ASCP is more sought-out by pathologists than the AMT. The breakdown of what each certification exam covers in detail can give you an idea of which one would be more useful to your individual goals.
Many employers prefer certification from one of these boards. However, while the AMT and ASCP are considered very beneficial, neither are mandatory in order to practice in the United States. Of course, there is nothing stopping you from obtaining each one of these certifications, should you really want to bump your credentials up to the next level! Ultimately, the certification you choose to go with is a judgement call. And if you need any help deciding, a recruiter at Radius would be more than happy to help guide you.
Are you looking for a great job in the lab science field? Check out our job board for regularly updated positions, like this one in Montana or this one in Kansas! Reach out today to get started.
[button link="
https://radiusstaffingsolutions.com/job-listings/
" color="lightblue"] Find Your Job[/button]                   [button link="
https://radiusstaffingsolutions.com/contact-healthcare-employment-agency/
" color="lightblue"] Request a Talent[/button]