In order to have an exciting career in healthcare, you're not required to become a surgeon or emergency room nurse. There are lots of career options in the healthcare management realm that are challenging, rewarding, and absolutely critical to the success of a healthcare facility. According to the Bureau of Labor Statistics, the field of Healthcare Management is growing much faster than average, and is projected to account for over 70,000 new jobs in the next 8 years, so it is certainly a career worth considering. But before you dive into a new position (with the help of a Radius recruiter!), you need to hold a certain level of education. When it comes to healthcare management, there are two typical education paths to choose from: a Master of Health Administration (MHA) or a Master of Business Administration (MBA). Both are respected by healthcare facilities across the country for healthcare management positions and both require similar prerequisites for admissions: a relevant Bachelor's degree and soaring GRE/GMAT scores, as well as a great recommendation and key professional skills.
However, one may be better than the other for your particular HCM journey. We have broken each of the programs down to help you decide if you find yourself having trouble making the decision!
Master of Health Administration (MHA)
The first option is obtaining a Master of Health Administration, and the name of this degree really says it all: "The emphasis of an MHA program is healthcare and integrating business practices and skills as they apply to a healthcare setting, such as managing a healthcare department, facility or system". 
Typically speaking, an MHA is the better choice for someone who sees themselves being around other healthcare professionals and patients on a regular basis and wants to learn business concepts that are practiced in the healthcare system. In addition to general business courses, an MHA will also offer courses more centered around healthcare, including:
Health policy

Health administration

Health program planning

Ethics

Healthcare economics
Master of Business Administration (MBA)
The second common option is a Master of Business Administration, which is more general than an MHA. This may be the better path for someone who wants to keep their options open, as an MBA can also be put towards a career in countless other industries besides healthcare. It is designed to give students an overview of all of the potential sub sectors under the business umbrella, healthcare management and administration being among them. 
The MBA is certainly the more flexible option of the two, but the courses offered as part of the degree won't necessarily relate to healthcare specifically. Some fields covered in a typical MBA program include:
Economics

Accounting

Finance

Marketing

Strategy
These are all useful skills to learn, however, someone with an MBA may require more experience to be able to better fuse the concepts of business and healthcare together.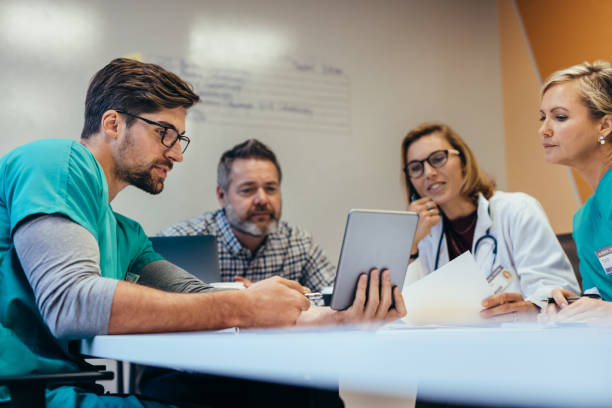 Which Should I Choose?
Both Master's degree programs are great choices for a career in healthcare management and/or administration, but the differences between the two are important to take into consideration. When deciding between them, it is useful to ask yourself some questions: What are my long-term career goals? What specialty of healthcare management do I want to focus on? Do I want to be surrounded by patients or by my peers? 
The main difference between the two degrees (as can be assumed by their titles) is that an MBA is designed to give students a broader understanding of the business world in general, whereas the MHA centres around healthcare right from the get-go. The prerequisites are largely the same, and as far as salary goes, the averages for jobs in the field only differ slightly based on which degree you have obtained. 
For a more specific education on things like healthcare budgeting, insurance, laws and practices, the MHA will provide a more healthcare-centred set of courses. To focus more on things like accounting, finance or marketing, the MBA may be more up your alley. The decision ultimately depends on whether you see yourself swinging more towards the 'healthcare' or the 'administration' specialty sides of the pendulum. For example, an MHA may be more suited if you are pursuing a career as a Patient Advocate, whereas an MBA might make more sense for a Hospital Administrator. 
Hopefully this comparison has helped make the decision process a little bit easier! Or, perhaps you have already completed your schooling and are looking for a great position in healthcare management. If so, you've come to the right place. We've got jobs all across the country, like this one in Virginia or this one in New Mexico – head to our job page for a regularly updated list of opportunities.  
[button link="
https://radiusstaffingsolutions.com/job-listings/
" color="lightblue"] Find Your Job[/button]                        [button link="
https://radiusstaffingsolutions.com/contact-healthcare-employment-agency/
" color="lightblue"] Request a Talent[/button]