COVID-19 dominated 2020. What began as a small outbreak halfway across the world turned into a full-fledged global pandemic, uprooting our normal way of life in practically every way. For months, it was nearly impossible to turn on the TV or overhear a conversation that was not COVID-adjacent. 
With 2021 right around the corner, it is compelling to think about how our next twelve months will look, now that we know immeasurably more about the virus and have plans in place to mitigate its impact. Many experts predict that the pandemic will not go away quietly, and that it may take years for the after-effects to subside, but we will be going into the new year more prepared and informed.
The return to 'normal' as we currently define it will not be an easy road, and it is possible that COVID will have shifted some elements of our normal for good. However, looking ahead is always exciting and helps us plan for what is to come. Here are some insights into what the COVID-19 pandemic might look like in 2021. 
Vaccines Just Around the Corner
The race to develop a COVID-19 vaccine has been underway for months, and the end is finally in sight. In the last few weeks, both Pfizer and Moderna have crafted vaccines boasting 90% and 95% efficacy respectively, and AstraZeneca recently collaborated with Oxford University on a vaccine which currently has a rate of between 70%-90% rate, depending on dosage.
It looks like vaccines for COVID-19 will be largely available in the new year, but many of the parameters surrounding them remain unclear. Will they be mandatory, or can people choose not to get vaccinated? Will they be free, or will there be a cost incurred?
The conundrum with a vaccine is that in order for it to be effective, in the sense that it immunizes a population from a certain virus, a good amount of the population must take the vaccine (or become immune to it through another method, namely infection). Known as herd immunity, in order for a population to be protected against a virus, a certain percentage of that population must become immune to it, so that the rate of potential infection is lowered. Because COVID-19 is a new virus with no information to date on its immunity rates, the exact percentage is unknown, but experts estimate it to be around 70%. For comparison, the highly infectious measles immunity rate is over 90%.
Dr. Anthony Fauci also warns that vaccines on their own will likely not be enough to curb the pandemic: "We can be greatly helped by vaccine…but it's not vaccine alone…we will still need to abide safety protocols such as physical distancing and mask wearing." So while the incorporation of these vaccines into our COVID arsenal is a good addition, it will most likely not be the end-all.
Are COVID-19 Regulations Here to Stay?
Actions like wearing masks or face coverings, social distancing, limiting large gatherings and more have become synonymous with the pandemic. They greatly upended our sense of normalcy, and many of us are eager for them to come to a close. However, some of the regulations surrounding COVID-19 safety have had unexpected positive effects, which has brought to mind the question of whether or not some of them should stick around in moderation.
For example, during flu season in the Southern Hemisphere, flu cases were virtually non-existent due to social distancing, mask wearing and frequent hand washing. In this sense, there are some COVID-borne recommendations that could be integrated into normal life in certain situations, with few disruptions and positive impacts. In other parts of the world, such as in many parts of Asia, face masks were already a common occurrence even before the pandemic, which highlights their value and applications in other circumstances. 
Of course, completely incorporating these measures into our everyday lives on a permanent basis might not happen, but it is important to stay open minded to the possibility that it could.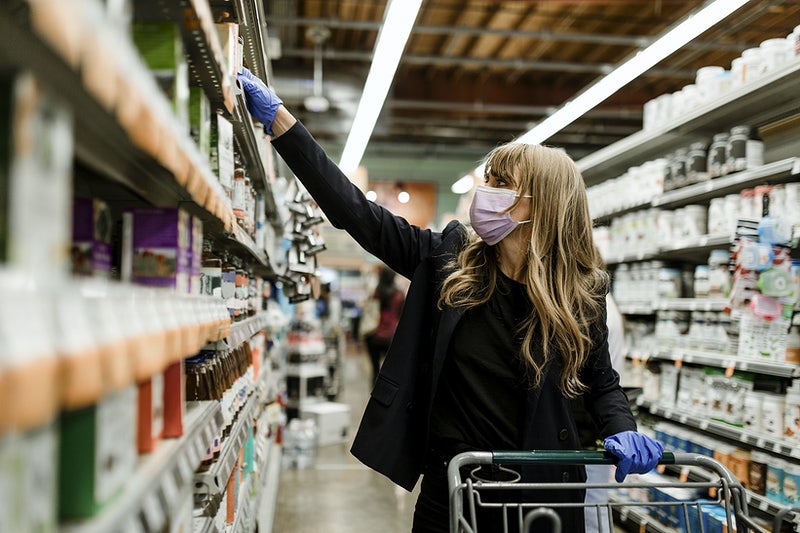 What Will Our New Normal Actually Look Like?
Because the virus is spread through human behavior, namely mouth droplets from close contact, some experts predict that social distancing measures may be necessary to combat COVID-19 through 2022. And, as evidenced by the Southern Hemisphere's flu season, social distancing can be effective for preventing other viruses and diseases – which is always a good thing. In this sense, large gatherings will probably take some time to return to our day-to-day, or at least remain limited during times of heightened health risk.
One of the products that came out of the pandemic that is likely to remain popular is the influx of remote working. In the healthcare world, many procedures and consultations can only be conducted in person; however, wherever possible, working from home and connecting with patients and providers virtually has become a welcomed adjustment. 
In the recruiting realm, virtual interviews and remote hiring practices have improved the hiring process in many ways, and they have made the job search experience more accessible and manageable for many candidates. For example, candidates who are caregivers for children with strict schedules or ones that are restricted by geographic or financial limitations now have more flexibility when it comes to connecting with potential employers. The obvious benefits to these practices mean that they will likely become commonplace fixtures even once the pandemic relaxes. 
Radius is committed to creating a space to further the conversation surrounding COVID-19 and healthcare. We are also passionate about matching great healthcare candidates with positions at unique facilities all across the country. Visit our job board for regularly updated opportunities or email us directly at .