It's that time of year again: America's favorite holiday, the 4th of July! While being distracted by the day's exciting celebrations, cautiousness may not be at the top of everyone's to-do list. Not surprisingly, thousands of injuries occur as a result of Independence Day festivities every year. Luckily, there are amazing healthcare professionals across the US that work tirelessly to keep us all safe, for times when we aren't so lucky.
We're sure you have a fun-filled weekend ahead of you, but make sure you're doing everything you can to keep yourself (and those around you) accident-free. Read on to learn about the most common 4th of July injuries – along with tips for how they can be prevented… 
Fireworks Injuries
Ah fireworks, a beloved 4th of July tradition! These light displays are one of the trademarks of the holiday, but if not handled with care and expertise, can lead to a number of gruesome injuries. In 2020, fireworks sent over 15,600 people to the emergency room, with the majority happening over the holiday weekend.
Holding fireworks for too long can lead to burns on the hands, arms and face; standing too close to fireworks can cause injury to the eardrum; and poorly aimed fireworks can cause fires and destruction of property. This should go without saying, but just for good measure: unless you have considerable experience handling fireworks, leave it to the pros!
Heatstroke
Independence Day is smack-dab in the height of summer, with temperatures in some states reaching averages of over 100 degrees Fahrenheit. While everyone enjoys a beautiful summer day and working on their tan, heatstroke is serious business, especially for very young and very old people. It is easy to forget to drink water and take breaks from the sun when caught up in the festivities, but these simple actions could make the difference between days full of headaches, nausea, dizziness, and elevated body temperature. In extreme cases, heat stroke victims need to be hospitalized. 
Listen to your body if you are outside for extended periods of time. Staying hydrated, wearing lots of sunscreen, taking breaks from the sun and wearing protective headwear can all help curb the potential of heatstroke.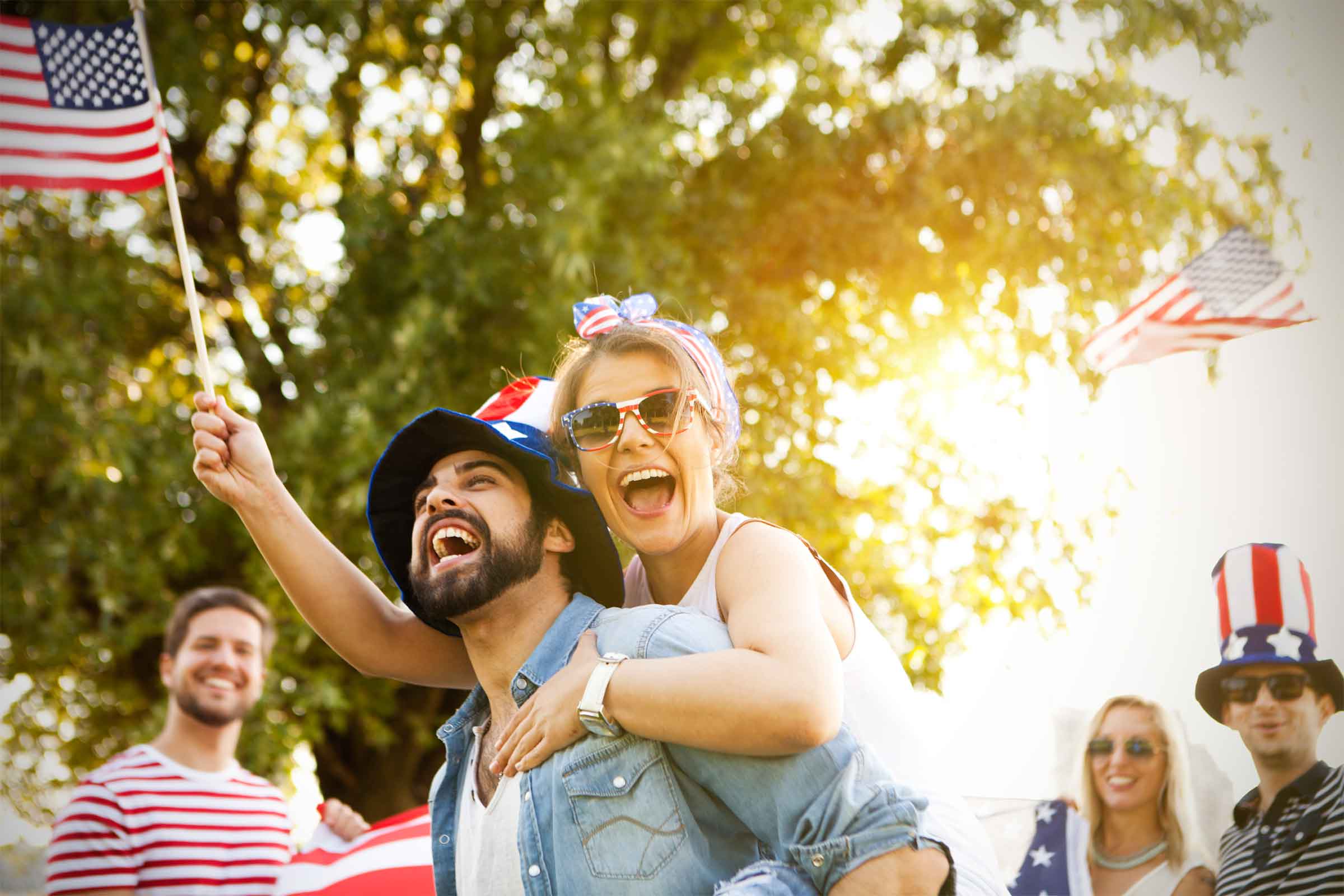 Car Accidents
Over 48 million Americans are expected to be on the road this 4th of July holiday. This spike in drivers on the road at one time dramatically increases the likelihood of accidents. Also, it is not unlikely for drivers to be tired, stressed or distracted – mindsets which can add to the possibility of some sort of mishap. It is a good idea to have two or more drivers that can take turns behind the wheel to alleviate some of the stress. Or, if you're driving solo, take breaks to avoid fatigue and frustration. 
Another (sadly) common occurrence on Independence Day is the heightened frequency of drunk drivers. It is estimated that around 1.5 billion dollars is spent on beer and wine during the month of July – and some of it unfortunately makes its way into the driver's seat. Under no circumstance should anyone consider driving under the influence, or getting into a car with someone impaired. Impaired drivers accounted for 28-29% of all car crash fatalities from 2016 to 2019. 
Food Poisoning
One of the greatest parts about the 4th of July is the food! Everyone loves a good BBQ cookout, but a lot of responsibility comes along with playing chef. Especially when cooking for large groups of people, making sure you are handling food with care is of utmost importance. Food that isn't stored or cooked properly can lead to food poisoning – and if you have had food poisoning before, you know it's better to avoid it at all costs. Wash your hands, don't cross-contaminate your meats and refrigerate your leftovers. These simple things could save you from a few very unpleasant days.
Happy birthday, America! From all of us at Radius, we extend our thanks to the healthcare professional keeping us safe and healthy this holiday! If you are looking for a new opportunity worth celebrating this year, then check out our job page here. If you are looking for something other than what you see, then send us an updated resume here and we'll connect you with a specialized recruiter!