Congratulations – you're one step closer to landing your dream job. Becoming a nurse requires tons of education and training, but you've probably never been given a course on how to prep for your nursing interview. That's where we come in!
Going through a recruitment agency that specializes in the medical field can be a useful step when looking for a nursing job, because agencies act as mediators between the healthcare facility and the candidates. Once you're selected for an interview, your chances of being hired are greater as you would've already been recommended to the hiring manager as a great fit. Think of the recruitment agency as a matchmaker!
If you're working with a recruiter, don't hesitate to reach out for help. We have the tried and true secrets to help you ace the interview. As recruiters, it's our job to make sure you feel fully prepared for any scenario or question that might come your way.
To start, we've compiled a few simple steps to get you ready for your nursing interview and prove that you're the best fit for the job!
1. Learn about the facility
Since all institutions are difference, become well-versed on the place you're interviewing for. Familiarize yourself with their website and the information it highlights. Then, dig deeper. What are their reviews like online? What types of articles are written about them? What are their specialties? Infuse what you've learned into your answers.
For example, suppose the hospital is featured in an article about its Neonatal Intensive Care Unit (NICU) and you're interested in pediatrics – consider mentioning that if asked about why you want the job.
2. Study for the role
You already spent years studying at an accredited nursing school, but you're not done yet! To ace your interview, you have one test left to pass.
Be sure to study for the position that you're considering working in. Carefully compare your skills and qualifications to the job requirements. Then, during the interview you can strategize your answer to align with the expectations of the job. For example, if it lists leadership skills as an asset, don't forget to highlight a time where you acted as a successful leader!  
Make sure you're also prepared to answer any questions about the medical industry in general since it's a field that's constantly changing. Being able to express where you stand on issues specific to healthcare such as patient confidentiality, or being aware of new trends in the field, are just more ways to show that you're passionate about what you do!
3. Get to know the interviewer
Try to find out who will be interviewing you, then look them up online. If you find them on LinkedIn, you may be able to learn more about their responsibilities at the facility, and therefore your future relationship with them.
However, don't be afraid to get personal. Did they attend the same nursing school as you? Did they grow up in Columbus as well? If you find a few interesting points about their life, drop them in the interview to establish a memorable connection.
4. Practice your answers
A good tip to remember is to use examples when formulating responses in the nursing interview. Specific examples can help highlight your strengths and abilities for the position. For instance, you could explain a relevant finding you came across in a patient's medical tests that the doctor had overlooked. Or, if this is your first job, you could tell a brief story of what inspired you to become a nurse. Examples provide concrete details to the hiring manager that help you stand out.
Prepare responses to a list of job interview questions you may be asked. Rather than scripting what you're going to say, self-reflect and try to come up with honest answers. Be sure to go beyond the obvious and consider the hard questions as well.
To get you started, we've compiled a list of some common nursing interview questions you might be asked:
Describe a time you had to deal with a difficult patient. How did you handle it?

How do you cope with stress on the job?

What do you do if someone isn't satisfied with their patient care?

What led you to choose a career in nursing?

What do you feel you contribute most to your patients?

Do you prefer to work alone or as part of a nursing team?

What part of being a nurse do you struggle with most?

Why should we hire you?

Do you have any questions for me?
This leads us to our next point…
5. Prepare your own questions
At the end of your nursing interview, you'll likely be asked if you have any questions. Create a list of questions to ask your interviewer about anything applicable to the position. This may include questions about current philosophies of the specific organization, the doctors or physicians you'll be working alongside, or even specifics of the job that weren't mentioned. Taking initiative to ask your own questions will show that you've thought past the interview and considered what life would be like working in the role.  
Some questions you can ask include:
How would you describe a typical day in this position?

Is it possible to have a look around the unit?

Do you have a set staff to patient ratio?

How is patient satisfaction audited?

What are the prospects for advancement?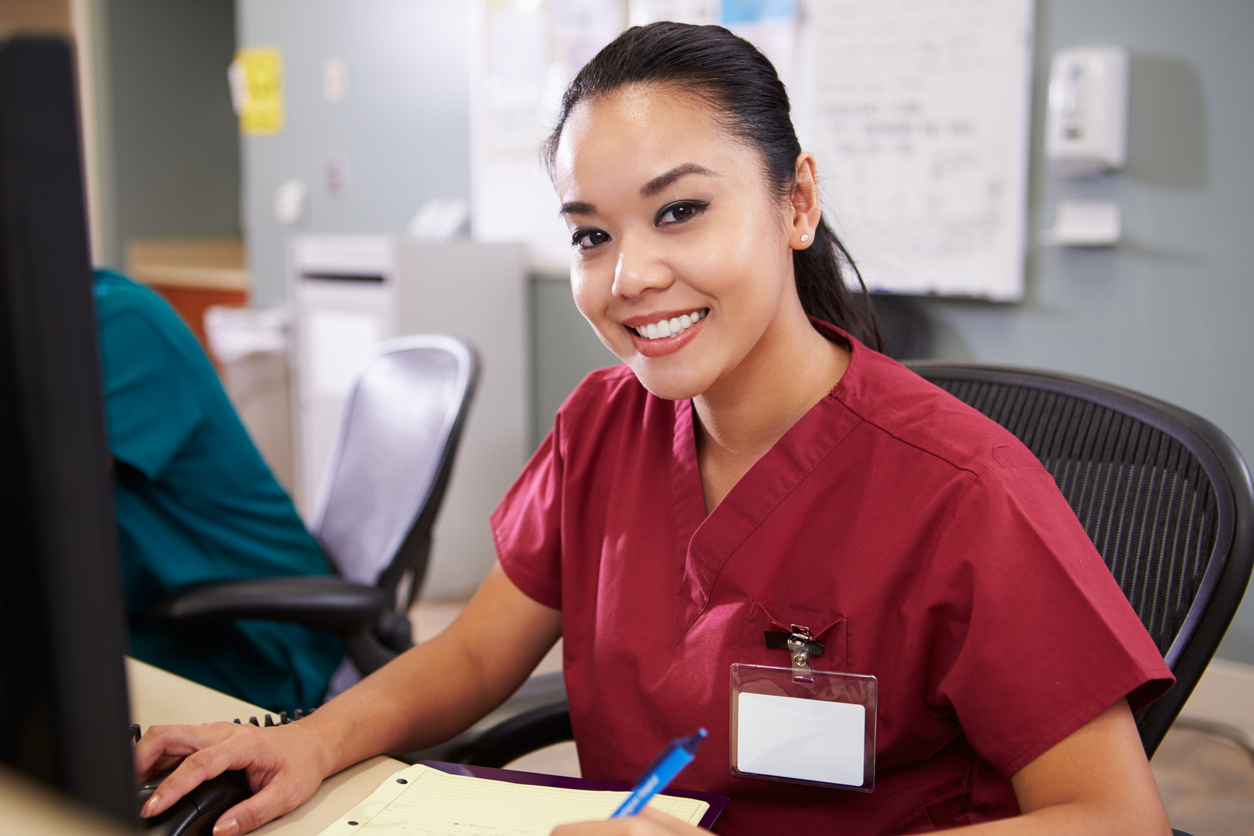 6. Prepare your documents
In addition to preparing questions, be sure to over-prepare your documents. Bring copies of all your paperwork to show that you're eager and organized. These documents should include your resume, nursing license, diploma, ACLS, BCLS and any additional certifications you may have. While you may not need all of these documents during the nursing interview, having them ready will put you a step ahead of the competition.
7. Know where to go
Well before your interview, map out your route and how you're going to get there. One of the worst things you can possibly do is show up late. If you don't feel confident in your ability to find the right location after looking it up online, consider physically going there a day or two before the interview. This will not only give you a more accurate sense of how long the trip will take, but it will also help calm pre-interview anxiety by being one less thing you have to worry about!
8. Don't dress the part
What we mean by this is don't wear scrubs to your nursing interview! Even though they're likely to be your daily attire, on this particular day you'll want to dress to impress. Think 'professional interview attire'. For both men and women, the best-case scenario is to wear a suit. However, if you don't have one, well-fitted slacks with a button-up and tie will work for men. For women, dress pants or a tailored skirt with a nice button-up or blouse will do the trick! Make sure that your hair is brushed and don't eat anything that could leave a stain while wearing your outfit.
It's important to consider that in any healthcare job, communication and trust are crucial. In a nursing interview, you should constantly be displaying these qualities, no matter what's being asked.
Since healthcare jobs are getting harder to fill in the U.S, as a nurse you're already in high demand. Take advantage of this upper-hand, go into the interview with the confidence knowing you're a great fit for the position!
Ready to find your dream job? Learn more about working with Radius Staffing Solutions here.