One of the most important spaces in which physical therapy is used is in seniors homes. Seniors tend to have more health problems and need more attentive care with retaining basic movements to live their lives comfortably. Working with older adults is a rewarding path;  increased range of motion that can be facilitated through physical therapy exercises is linked to a plethora of positive benefits, including increased social engagement, mental well-being and of course, less strain on the body. 
When exploring a physical therapy career in a long-term care setting, there are a few considerations to keep in mind. Working with some of the most deserving members of our society is a lot to take on and providing care that is safe and accessible has never been more important. 
Read on for some insight! 
Increased Caution in a COVID World
The outbreak of COVID-19 uprooted many people's lives, but the virus targeted nobody more than seniors and long-term nursing homes. In fact, over one-third of all COVID-19 related deaths were seniors home residents and workers. Since returning to work after a few months of restrictions, physical therapists have put cautionary steps in place to protect these at-risk individuals.
Physical therapists and their employers have been putting in some creative thought into adjusting their techniques to ensure residents are safe. While these measures differ depending on the facility and the advice of their employer, they can include wearing personal protective equipment (PPE), collaborating with other healthcare professionals to conduct their practices remotely, or adjusting their exercises to abide by social distancing regulations. At the end of the day, protecting our most vulnerable has remained the top priority of the healthcare community as a whole.
Unique Set of Exercises
In nursing homes, one of the most common needs for physical therapy intervention is reduced mobility, as opposed to injury, trauma or disability. In addition, they often have more health problems that may not seem immediately related to physical ability, but can potentially lead to falls or balance issues, such as poor eyesight, heart conditions or a plethora of other afflictions.
A great example of a physical therapist who helped a senior reclaim their independence is Ellen Gardner, DPT. After losing 65 pounds and becoming bedridden due to a health crisis with her esophagus, an 89-year-old patient sought the help of Gardner to help her regain her independence, learning new movements and techniques to help her live her life comfortably again. Also, because being able to move freely is often closely linked with mental health and socialization in seniors, Gardner offers tailored advice to her patients that motivates and encourages them to re-enter society after injury or old age: "I might say, 'if you do this exercise, you can see your granddaughter's softball game.' Then they connect the dots."
The types of exercises used in a nursing home are often much slower and gentler compared to other settings. For example, stretching to relieve muscle tension, taking short walks around the facility, and doing exercises in bed are some of the most common PT movements for seniors. In the same vein, there are some exercises and treatments that should be avoided. For example, using heating pads can exacerbate nerve pain, and whirlpools can potentially harm those who bruise easily. Methods you would normally use on patients have to be given a second thought when it comes to working with seniors.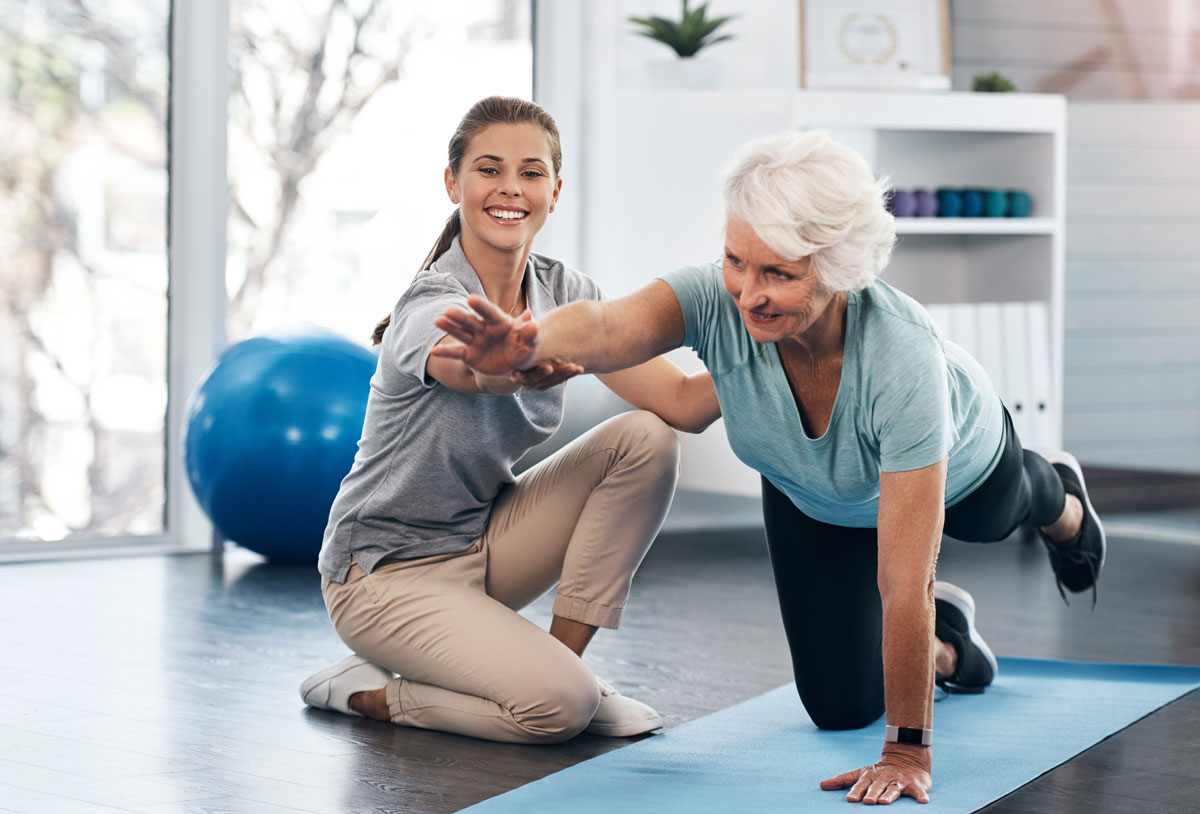 Neurological Physical Therapists
Many elderly people suffer from neurological conditions such as Alzheimer's, ALS, Parkinson's or have suffered some sort of brain trauma. In these situations, neurological physical therapists are brought in to do a slightly different form of therapy, which focuses more on the relationship between mind and body. They help their patients adapt to visual, mobility and balance impairments that can be common side effects of neurological conditions.
Karen Schuler, PT, DPT, has worked for over 20 years as a physical therapist, focusing on neurological conditions. At the beginning of her career, the research said PT didn't do very to help these kinds of afflictions – until it was found that new techniques could actually 'trick' the brain into re-engaging in movement: "People with Parkinson's have lost the ability to calibrate themselves and the brain struggles with [certain] movements… a 10-15 minute exercise routine creates an awakening in the brain."
Neurological physical therapists are tasked with tailoring their approach for each specific patient and can be a common fixture in seniors' homes. Because of the slightly more complex nature of their practice, this specialty requires further certification and examinations through the APTA. 
Are you looking for your next great position in the field of physical therapy? If so, you have come to the right place – Radius Staffing Solutions specializes in rehabilitative therapy in a number of different settings all across the country. You can visit our job board or email us directly at today.