For many healthcare professionals, scrubs are like a second skin. However, not all scrubs are built the same. The ideal pair should be comfortable, functional and easy to move around in – a twelve-hour shift can seem a lot longer if your scrubs aren't selected with care. 
A staple in the healthcare world for decades, scrubs are worn because they are easy to clean and act as an unofficial uniform for healthcare professionals. Their simple design also contributes to keeping patients free from infection; no loose pieces of clothing will interfere when leaning over a patient or an open wound. 
Scrub options have commonly been limited, but due to a rapidly expanding healthcare industry as well as a demand for workers wanting to show some personality through their work clothes, there are now more choices available than ever before. If you are going to be wearing scrubs day in and day out, it is worthwhile to do some research into finding a set that works for you. 
Are you in the market for a new set? Here are some of our top picks for the best brands of scrubs. 
FIGS
The CEO of FIGS has a background in fashion and created the brand in response to seeing her nurse practitioner friend wearing uncomfortable, scratchy scrubs all day long. FIGS scrubs are made from four-way stretchy fabric traditionally used in sports apparel, and they are out-of-this-world functional. Many of their scrub pants have not one, not two, but ELEVEN pockets, so that healthcare professionals can carry everything they need with them at all times. And, in response to the COVID-19 crisis, they have begun selling specially crafted face masks on their website. 
FIGS has also started the Threads for Threads initiative, donating medical apparel to healthcare professionals in need. Since its inception, they have donated over 500 thousand sets of scrubs to healthcare professionals in 35 countries all around the world!
Dickies
Back in 1922, Dickies originated in making high-quality utility clothing for farm and ranch hands, and they continue to make occupational uniforms for industries like construction, hospitality, landscaping. With such a reputable history, it only makes sense that they would be the brains behind some of the most durable and long-lasting scrubs on the market. Making clothing that is functional and comfortable has always been Dickies' top priority, and that sentiment can be seen in their healthcare apparel. 
The brand has multiple sub-categories of scrubs, with a seemingly endless array of options for both men and women, different body sizes and shapes, and a range of colors to choose from. In addition to scrubs, Dickies also manufactures laboratory coats for lab science professionals!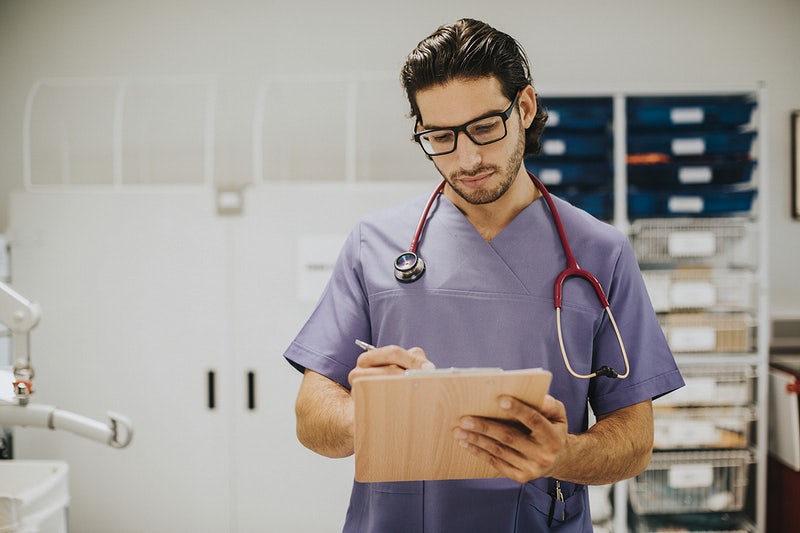 WonderWink
With a tagline like "When you wear WonderWink, expect compliments," you know it has to be good! WonderWink has become another great scrubs brand that healthcare professionals swear by. The brand is committed to providing options for medical workers of all shapes and sizes and believes that scrubs don't have to be boring and uniform. In addition to a HUGE selection of colors, styles and sizes of scrubs, WonderWink also makes a collection of healthcare accessories like scrub caps, headbands, masks, compression socks and laboratory coats. 
Cherokee
Cherokee has been producing apparel since the early 1970s and scrubs since the mid 1990s, and they've certainly perfected the method of what goes into a great set. Every season they introduce new designs, colors and prints, but the quality, comfort and functionality of their apparel is never compromised. The brand also makes footwear designed specifically for healthcare workers which aims to combine fashion with function.
Cherokee is also very vocal in supporting and encouraging aspiring healthcare professionals, donating a portion of their proceeds to various healthcare scholarships across the country. Since 2007, they have contributed nearly $200,000 in funds!
Looking for the perfect job to match your new scrubs? Radius Staffing Solutions would be happy to help place you in an exciting new position at one of our many partner facilities across the country. Visit our job board today to get started.