It's no secret that the job hunt can be daunting. The healthcare system is experiencing a shift right now, in which an aging population is increasing the need for more experienced healthcare professionals , but those experienced workers are beginning to retire. What does that mean? While it sounds like there should be plenty of positions available, job seekers are still met with what seems like endless competition, and it can be difficult to know where to begin and how to stand out. Wouldn't it be great if it were someone's job to find you a job?
Well, that's where healthcare staffing agencies come in, streamlining the connection between specialized candidates and employers. But recruitment agencies are so much more than just the middlemen. Many healthcare facilities across the country have enlisted the help of recruitment agencies such as Radius Staffing Solutions in order to find the right fit for some hard-to-fill roles. If you've found yourself searching for your next healthcare job – such as nurse practitioner, physician's assistant, radiologist, and more – consider these pros and cons of working with a healthcare recruitment agency to decide if the experience is right for you.
PRO: It's our job to find you a job
When searching for a job, there is nothing more frustrating than sending your resume out online, only to never hear back from the posting. You may very well be qualified to be a nurse practitioner, but it's easy for resumes to get lost with the volume of applicants that many openings receive. When working with a recruiter, you can be sure that your resume is finding its way into the hands of the right employers, so you don't get lost in the melee. We take the time to investigate all the options that might be right for you – ones that you may have not even thought of before!
"We take the time to investigate all the options that might be right for you"
PRO: We are active in the job search
Connecting candidates to employers? Yeah, that's our thing. But beyond that, we have the insider scoop on what is new and current in the healthcare market, and our resources reach far and wide. Maybe it has been a little while since you've been looking for a new position – it is possible that the market has changed drastically since the last time you looked, and your current approach may just not be the most effective anymore. We constantly have our ears to the ground of what our clients are looking for in a candidate, and communicate this back to you, so that finding the right fit is that much easier.
CON: We will always be honest with you
Honesty is the best policy. But truth be told, nobody likes to hear that what they have been doing just isn't working. It may feel discouraging, but you can trust in us – because we truly want each and every candidate to succeed. At Radius, we know how important having an open line of communication is in order to find the right candidate for the job.
Who knows, our consultants may discover that the nurse practitioner job you originally applied to might not be the right fit for you after all, but another position is – and they can help steer you in a different and potentially more successful direction. We are professional matchmakers – we know what our candidates can do, and we know what our clients want. In the end, that little bit of honesty can be a good thing.
"We constantly have our ears to the ground of what our clients are looking for"
PRO: We know people and we know the game
Trying to find a job without a network or resources can be frustrating to say the least. In any industry, there is an element of networking that comes into play when trying to land a job. Our network of healthcare facilities is vast, and it is our goal to integrate you into that network. Furthermore, recruitment agencies often know about jobs before they are posted to the public – giving those who work with them an even sharper edge against the competition.
PRO: We are all yours, start to finish
When working with a recruiter from Radius, it is comforting to know that they won't simply vanish into thin air after they have connected you with an employer. We want to make this experience as smooth as possible for all parties involved – that means following through from start to finish.
From initial contact all the way to getting you settled in your new location, you can be sure that you have a helping hand the entire way. In addition to connecting candidates with employers, consultants can also offer career advice and help negotiate on your behalf – they really pull out all the stops to provide the best experience possible. Watching you succeed is the best part of our day.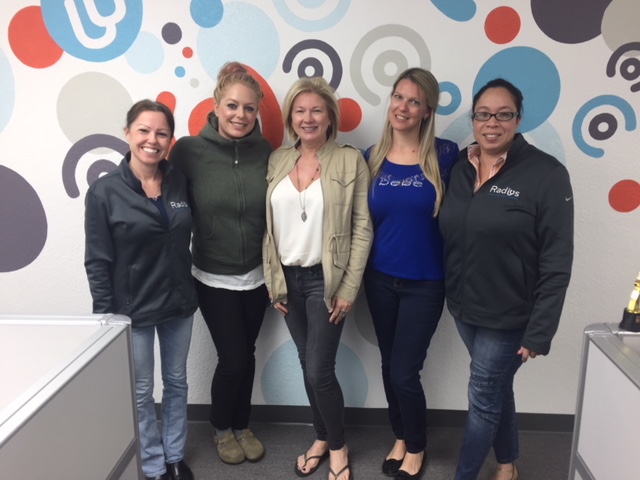 CON: Feeling like 'just a number'
With a big staffing or recruitment agency, it can be hard not to feel like a number, or a means to an end for someone simply filling their quota to get a pay check. It is true, recruiters do get paid for their work (crazy, right?), and at big medical staffing agencies, it can sometimes be the case that several candidates are assigned to one recruiter. However, at Radius, we take pride in our people and do everything in our power to make you feel like more than a number – because you are! We are a boutique, dedicated team of permanent placement search consultants – that means more attention to each candidate, which is what each person deserves.
We are always happy to help new candidates navigate through their job search. If you think working with a recruiter from Radius Staffing Solutions is right for you, don't hesitate to reach out today!